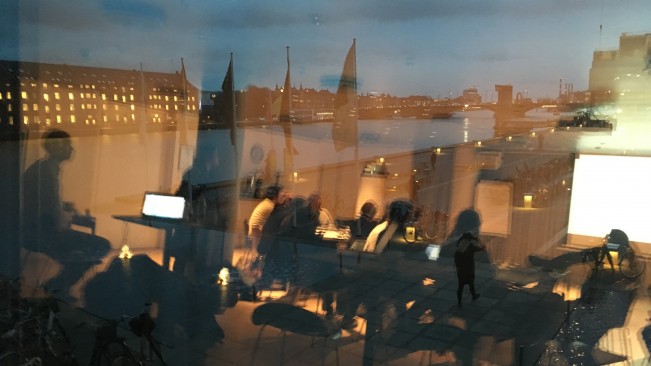 1st Knowledge Exchange Workshop on Open Access Monitoring 
20 - 21 May 2015, Utrecht, The Netherlands
In 2015, KE hosted a workshop on Monitoring Open Access in Utrecht.The workshop promoted debate on standards and best practices to monitor compliance with Open Access (OA) policies. Speakers and participants shared challenges and best practices, explored ways to support and enhance each other's activities, and discussed approaches to assess quality and impact. At the workshop, participants expressed the need for common standards and identifiers to be used, a wish that data could be compared and aggregated at an international level, and the need to agree on data requirements.Recommendations on best practices and an agreement on minimum standards were identified as necessary next steps. The workshop concluded that 'definitions,workflows and collaboration should be closely linked in order to keep monitoring'.
2nd Knowledge Exchange Workshop on Open Access Monitoring
29 - 30 November 2016, Copenhagen, Denmark
A second workshop was held in Copenhagen in 2016 as a result of this initial discussion. This workshop focused on debating issues related to monitoring OA publications and monitoring cost data for OA publications. The workshop reinforced the need for common standards and definitions, for publishers to deliver data, and for accounting systems to be interoperable. Discussions highlighted the need for data to be made openly available and to be shareable, for DOIs to be provided as they can be transferred into systems such as Crossref, for publishers to provide funder metadata, and for these requirements to be stated in publishers' agreements.Work groups discussed data, workflows, standards and policy for monitoring OA publications and for monitoring cost data for OA publications. As a result of the workshop a series of recommendations were issued for Current Research Information Systems (CRISs), publishers, and libraries and the report Consensus on Monitoring Open AccessPublications and Cost Data was published.
Around the same time that KE started discussing issues related to monitoring OA, the ESAC initiative started discussing 'the need to develop workflow efficiencies in the management of open access Article Processing Charges'. Since then, ESAC developed an infrastructure to aggregate data on transformative agreements and issued recommendations for article workflows.
Monitoring agreements with Open Access elements
In 2018 the KE monitoring OA group started a third activity on monitoring agreements with Open Access elements, focused on addressing issues related to OA article-level metadata in response to the aims of the above reports and recommendations. More specifically, the KE group focused on analysing publishers' agreements to assess what article-level metadata is requested from publishers and what metadata is provided by publishers. It developed a list of article-level metadata criteria and this list was re-used as a template for metadata collection.
With Plan S research funders requiring a full transition to OA by 2021, the delivery of article-level metadata becomes critical to monitor publishers'compliance with Plan S requirements for transformative arrangements.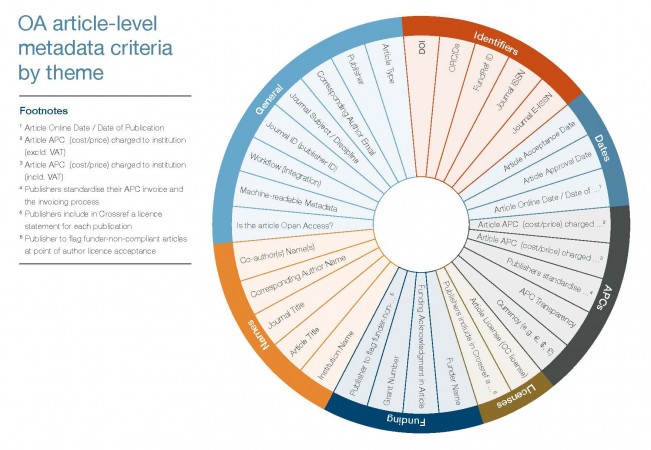 In its research, the KE Monitoring OA group used recommendations issued by KE and the Efficiency and Standards for Article Charges (ESAC) initiative to develop a list of article-level metadata to evaluate if consortia requested metadata and if publishers delivered it. The research findings showed that:
Not all consortia agreements requested the article-level metadata as recommended by KE and ESAC.
Most importantly, none of the publishers provided all the metadata that the consortia requested.
The data showed that invoicing and reporting metadata was most commonly provided by publishers whereas funding metadata was the category where publishers scored the lowest results
Publishers also did not deliver the same metadata across countries and this may be due lack of consistency in their practices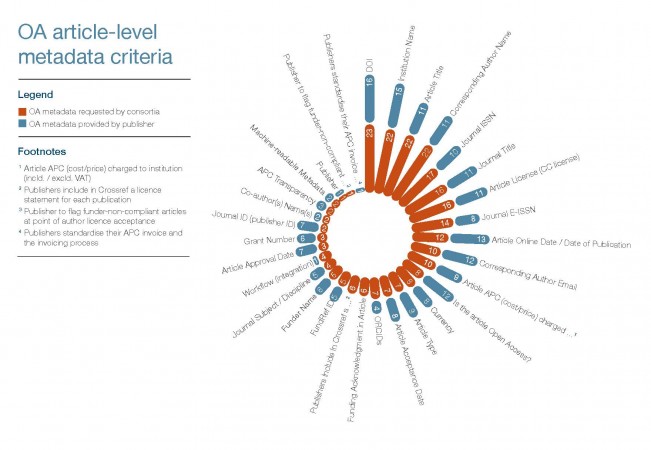 The research findings can be used as a benchmark to monitor how major publishers were performing in KE countries until early 2019 and prior to Plan S comes into effect in 2021. To assist in the process of article-level metadata collection, the KE Monitoring OA task and finish group created a template based on the KE and ESAC recommendations that consortia can use as a guideline for what metadata to request from publishers and that publishers can use as a reporting tool. 
The template can be downloaded for further use here.
You can read the article published in Insights here